Venosan Sheer Thigh High
Compression Stockings
SOFT & ELEGANT
Stay healthy and elegant with this line of fine compression stockings.  Available in compression class II (23-32mmHg at ankle).
LACE TOP
| | |
| --- | --- |
| | |
| Outside | Inside |

Effective Compression
Improved blood flow
Leg Contouring
Beautiful legs through shaping compression
Anatomically Knitted
For maximum comfort, does not slip
$110.06 incl GST
Size Selection
Compression Guide
Reviews (0)
Measurement Tips
For ankle circumference, measure above the ankle (smallest circumference).
For circumference of the calf, measure around the largest calf circumference.
If you don't have a tape measure, use a piece of string and measure against a ruler.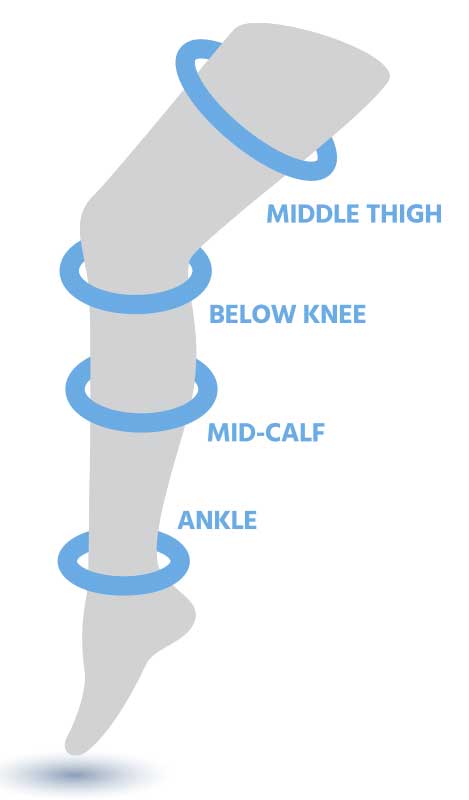 Circumference measurements (cm)
Measuring Point
Small
Medium
Large
XLarge
Ankle
20-23
23-26
26-29
29-31
Mid-Calf
29-39
33-42
36-45
39-47
Below Knee
28-38
32-41
35-44
38-46
Middle Thigh
48-63
54-67
58-72
63-74
20mmHg is an ideal compression for: every day support for travel and work, mild oedema, slight varicosity, tired/aching legs.

This amount of compression can help with: prevention of blood clot formation in your veins, prevent the appearance of varicose veins during pregnancy, reduces the oedema in the legs at the end of a long day on your feet or standing for too long.

Unless prescribed by a health care professional*, compression wear is not recommended if you suffer from any of the following conditions:

Severe arterial blood flow disorder

Severe neuropathological disorder

Severe microangiopathy

During confinement to bed

Directly after DVT*

Pronounced oedema*

Decompensated heart failure*

Weeping dermatitis (ulcers)*