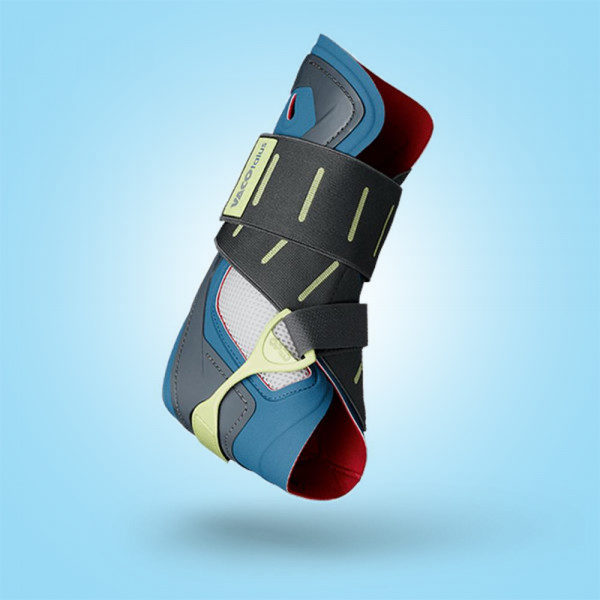 Ankle Brace (VACOtalus )
Unique design using VACO12 cushions incorporated in the brace to protect and stabilise the ankle.
The VACOtalus ankle brace is low profile, easy to apply, super comfortable and does wonders for stabilising the ankle through directional change and immobilising the ankle post injury.
VACOtalus Advantages at a Glance
Discus with your doctor or physiotherapists is based on the below indications this is the right brace for you.
Optimised combination of effective stabilisation and superb wearing comfort
Tangible limitation of talar shift through the Talusstrap
Optimised treatment of swelling since the orthosis offers space to accommodate it
Excellent grip around the ankle area thanks to VACO12 cushion
Slim design to allow it to be worn easily inside a shoe
VACO12 Technology
VACO12 technology is the core technology of the VACO Products (check our website for more details about our range https://www.obex.co.nz/product-category/orthotics/
A cushion filled with thousands of styrofoam pearls is surrounding the injured body parts. By the perfectly round shape of the pearls they can absorb 12 times the pressure each. When air is extracted from the cushion using a handheld air pump, the b cushion becomes hard (like a cast), just in a few seconds. By opening the valve and letting air flowing inside the cushion, it becomes soft again and can be re-adjusted to the body part. Hence the Vacuum Technology avoids pressure to the body site and provides stability due to a perfectly shaped orthosis at any time.
Indications
Acute ankle ligament injuries
After-care for fractures of the ankle joint
Prevention of ligament lesions on the ankle joint
Compensation of ankle joint instability
$132.25 incl GST
| | | | | |
| --- | --- | --- | --- | --- |
| Size | Mens (US) | Womens (US) | UK | Euro |
| Small | Up to 7.5 | Up to 8.5 | Up to 6.5 | Up to 40 |
| Large | 7.5 & up | 8.5 & up | 6.5 & up | 40 & up |
---
Latest Products
Venosan Sheer Knee High

Compression Stockings

SOFT & ELEGANT

Stay healthy and elegant with this line of fine compression stockings.  Available in compression class II (23-32mmHg at ankle).

Effective Compression
Improved blood flow
Leg Contouring
Beautiful legs through shaping compression
Anatomically Knitted
For maximum comfort, does not slip

$

67.05 incl GST

Venosan Sheer Thigh High

Compression Stockings

SOFT & ELEGANT

Stay healthy and elegant with this line of fine compression stockings.  Available in compression class II (23-32mmHg at ankle).

LACE TOP

| | |
| --- | --- |
| | |
| Outside | Inside |

Effective Compression
Improved blood flow
Leg Contouring
Beautiful legs through shaping compression
Anatomically Knitted
For maximum comfort, does not slip

$

110.06 incl GST